RINGFEDER POWER TRANSMISSION has added another direction-setting innovation to its comprehensive portfolio of backlash-free elastomer jaw couplings of the RINGFEDER® GWE series: The new type GWE 5113. This coupling, developed in close cooperation with customers, impresses by outstanding concentricity properties thanks to specially optimized, high-precision compact hubs made of aluminum. It is therefore the solution for an ideal vibration and shock damped, uniform transmission of drive force, as it is mandatory in the field of linear technology and other precision applications. In addition, customers benefit from excellent reliability, first-class cost-benefit ratio, and fast availability.
For all drive applications that require extraordinary positioning accuracy and effective damping of shocks and vibrations, the torsionally flexible jaw couplings of the RINGFEDER® GWE series are the first choice of leading operators. These proven shaft connections are preferably used in applications such as machine tools, medical technology, automation, robotics, test benches as well as transfer and conveying systems. The comprehensive range of standard components comprising different materials, fastening options, hub designs, intermediate shafts and hardness grades allows the configuration of the optimum coupling solution that fulfills the individual requirements of the application.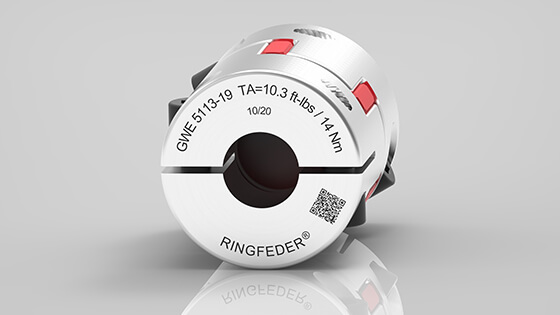 Newly developed, precision-machined: RINGFEDER® GWE 5113
Both positive-locking and frictionally engaged connections with or without keyway can be realized. Depending on the coupling size, the servo insert couplings of the GWE series are capable of transmitting up to 2,400 Newton meters (1,770.15 ft·lb), absolutely backlash-free and with maximum accuracy. Their excellent damping properties and the capability to compensate for radial, axial and angular shaft misalignments guarantee shock- and vibration-optimized operational behavior of the entire drive line, which is of prime importance in precision applications. By virtue of their design, the couplings can also be used in areas where electrically insulating properties are required.
One New Type, Numerous Convincing Advantages
The new type GWE 5113 is the highly innovative result emerging from the close cooperation between the coupling specialists of RINGFEDER POWER TRANSMISSION and a renowned manufacturer in the field of linear technology. This supplement to the existing range of pluggable elastomer jaw couplings of the RINGFEDER® GWE series provides even higher flexibility and versatility for the benefit of our users. Developed specifically to fulfill the demanding requirements of the particular application, the new type stands out for its extremely compact and short design with low moment of inertia. For this reason, it is predestined for use in typically very small and confined space conditions.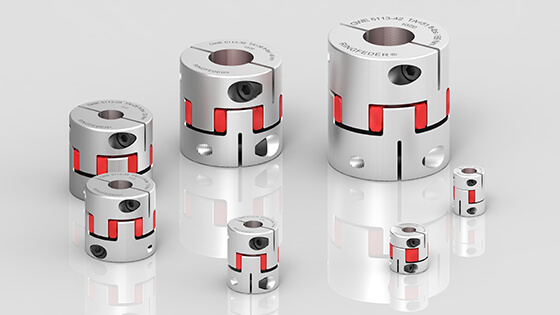 Seven sizes with bore diameters ranging between 4-56 mm (0.157-2.205 inch)

Two single-slit clamping hubs made of high-strength aluminum and machined with extreme precision allow easy and fast mounting and dismounting of the coupling. The symmetrical arrangement of the clamping slots and screw positions ensures a more even mass distribution and, as a result, superior concentricity. The unslotted cam area of the hubs additionally supports uniform power transmission. Positive result for the customer's specific case of application: The optimization of concentricity eliminates occurring radial loads which can adversely affect the bearings of the motor shaft. Cost-intensive repairs and downtimes can effectively be avoided by using the new GWE 5113 coupling type.
The advantageous hub design is also used in another new type, the RINGFEDER® GWE 5117, which is equipped with an expanding mandrel for friction-locked torque transmission on hollow shafts.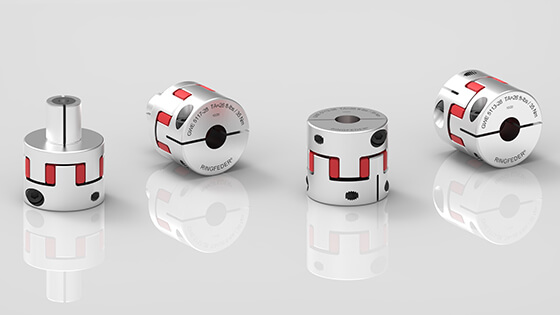 GWE 5117 with expanding mandrel for hollow shaft connections (left) and GWE 5113
High-Precision, Backlash-Free Torque Transmission of Up to 560 Newton Meters
The puncture-proof couplings of the GWE 5113 type are available in a total of seven different sizes and with bore diameters ranging from 4 to 56 millimeters (0.157 to 2.205 inch) – at attractive prices and short delivery times. Larger diameters may be possible after detailed examination of the particular application by our specialists. Depending on the size, the connecting elements reliably transmit torques from 3 to 560 Newton meters (2.21 to 413.04 ft·lb) with utmost accuracy. As standard, they come with a media-resistant red elastomer spider made of high-quality polyurethane with 98 SH A hardness. In order to ideally adapt misalignment capability, damping behavior and torsional stiffness of the coupling to the specific requirements of the application, customers can choose between bored and unbored elastomers of four different Shore hardnesses, from 80 SH A to 64 SH D. Furthermore, coupling hubs can be equipped with keyways according to DIN 6885-1 or standard inch dimensions.
Prior to their shipment, all couplings of the new GWE 5113 type are provided with a laser marking that includes type designation, date of manufacture and screw tightening torques according to the international and the Anglo-American system of units. This enables easy traceability and unambiguous identification, so that inquiries can be processed and solved quickly, even many years after production. In addition, a QR code, also applied by laser inscription starting from coupling size 19, allows users direct and convenient access to the corresponding assembly and operation manual via a mobile device.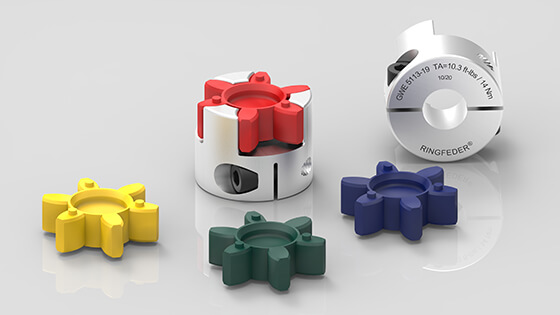 Elastomers are available in four different Shore hardnesses, from 80 SH A to 64 SH D
Maximum Operational Safety Due to Optional Compliance with the ATEX Directive

For use in areas subject to explosion hazards, the new coupling type GWE 5113 – like all other elastomer jaw couplings of the RINGFEDER® GWE, TNM, TNS and TNB series – can be supplied in accordance with the ATEX Product Directive 2014/34/EU as well as DIN EN ISO 80079-36:2016 if required.
You can find comprehensive information about the new GWE coupling types 5113 and 5117 including detailed technical data and CAD models on their dedicated product pages linked below:
Your Contact
You have specific questions, require technical support or you are interested in a customized solution? Our experts in Engineering and Sales are more than happy to assist you. Contact us quickly and easily via our request form, by e-mail or telephone.