Absolute zero backlash, highly effective misalignment compensation, outstanding torsional stiffness: The powerful steel disc couplings of the new RINGFEDER® TND series – originating from the proven TSCHAN® POSIMIN® and GERWAH® series – are suitable for the most diverse applications and thus ideal for all drive tasks particularly requiring freedom from wear and maintenance as well as excellent misalignment compensation and positioning accuracy. The unitized coupling design and the smart modular system specially conceived for this series ensure maximum flexibility and customizability, so that there is always one coupling version available that is optimally suited for the users' individual application.
Whether test benches, compressors and pumps, printing and packaging machines ventilation and fan systems or other industrial applications: When it comes to high-precision, backlash-free transmission of torques and, at the same time, the effective compensation of axial, angular and radial shaft misalignments, the steel disc couplings of the newly developed RINGFEDER® TND series are the superior choice. As a standard, the torsionally rigid shaft connections are available in a total of eight types, each with up to eleven sizes as well as a wide bore diameter range from 25 to 215 millimeters (0.984 to 8.465 inch), and transmit nominal torques of up to 130,000 Newton meters (95,833.07 ft·lb).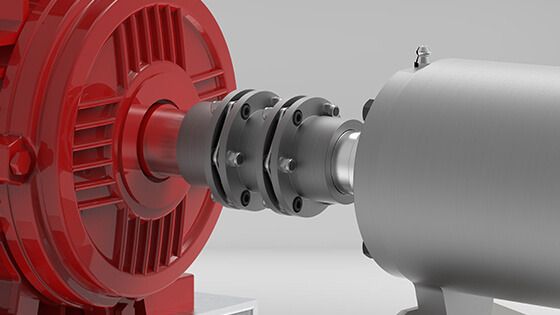 One of a total of eight standard types: RINGFEDER® TND HDH

Along with the typical factors crucial for users, such as distinct temperature resistance and excellent concentricity, the comprehensive development process focused on the creation of a highly flexible modular system consisting of several disc pack and hub types, mounting options as well as spacer variants and lengths. The objective for the benefit of our customers: The provision of a broad range of couplings that fully complies with the differing requirements of a wide variety of application scenarios and, in addition, enables the realization of highly specific customized solutions with short delivery times and competitive pricing.
FEM-Optimized, Corrosion-Resistant Disc Packs in Two Types
The characteristic and functional centerpiece of the maintenance- and wear-free RINGFEDER® TND steel disc couplings are disc packs developed utilizing in-depth FEM analysis. They consist of multiple circular, torsionally flexible single discs made of stainless spring steel which are connected by means of high-precision sleeves to form a compact unit. To reduce load peaks that are mainly induced to the outer discs when shaft misalignments occur, the precision sleeves are equipped with specifically produced relief grooves. High-strength fitting screws alternately connect the disc packs, if necessary via mounted spacers, with the input- and output-side coupling hub, so that the steel discs, which are loaded by tension and compression, transmit the required torque reliably and with high accuracy. At the same time, this ensures the desired compensation capability for angular, axial and, depending on the coupling type, also radial shaft misalignments at minimum restoring forces.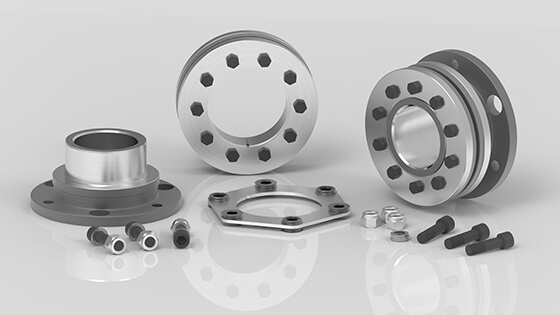 Single-jointed type with Shrink Discs RfN 4061: RINGFEDER® TND XSX

Depending on preference and application-specific needs, customers may choose from two different disc pack types as a function of the coupling size: The type HD (High Deflection) for increased compensation capability at occurring shaft misalignments, and the type HT (High Torque) with larger power density for higher requirements on transmissible torque. Overall, torque is transmitted in both directions of rotation with zero backlash – an indispensable precondition for the use in machines and plants with synchronous operation, frequent starts and stops or reversing operation. Moreover, this makes the couplings of the RINGFEDER® TND series the perfect choice for applications requiring highest positioning accuracies and for variable-speed drives.
A Matter of Choice: Shaft-Hub Connection by Keyway or Shrink Disc
Subject to the customer's individual requirements, the coupling hubs can be mounted onto the shafts to be connected either by a keyway, according to DIN 6885-1 as standard, or by high-quality RINGFEDER® Shrink Discs. The latter mounting option provides a 360-degree connection which is particularly suitable in cases of very smooth shafts requiring an increased contact pressure of the hub onto the shaft. This provides for a constantly reliable torque transmission by way of a friction fit. The specific assignment of shrink discs of the three-part RINGFEDER® RfN 4061 series to the individual coupling sizes allows users to select a suitable shrink disc quickly and conveniently.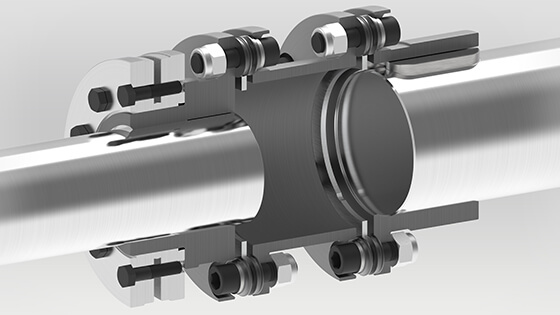 Shaft-hub connection by shrink disc (left) and keyway (right)

As connecting elements between the hubs, either a single disc pack or spacers of different variations with one disc pack screwed to them on each side are utilized. Coupling types with a single disc pack have single-jointed designs and are capable of compensating angular and axial shaft misalignments between the connected aggregates, whereas double-jointed designs with two disc packs can also accommodate for radial misalignments. To allow for the adaption to prevailing site conditions and provide for the ability to bridge even very long shaft distances, spacers are available in various standard and customized special lengths of up to three meters (118.110 inch), as well as a particularly short compact-spacer that can be mounted and dismounted radially.
Superior Concentricity and Maximum Operational Reliability
Thanks to first-class material quality combined with advanced machining processes at very tight manufacturing tolerances and a compact design, users benefit from highest concentricity resulting in a particularly smooth and quiet operation with low vibration levels – even in drive applications involving enormous rotational speeds or irregular rotational forces. Furthermore, steel disc couplings of the RINGFEDER® TND series are not subject to wear and do not require cleaning or lubrication, provided that the relevant selection and operation criteria are observed. When properly installed, they are expected to have a virtually infinite service life.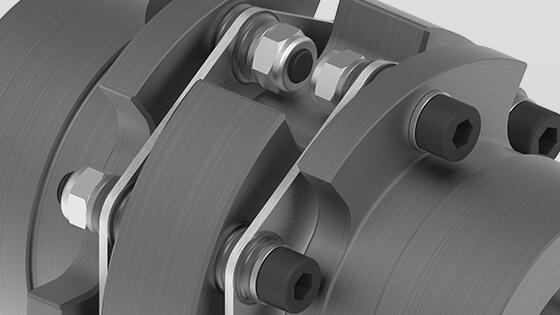 Short & precise: TND OCO with compact-spacer and two disc packs

Due to their all-steel construction and their accompanying resilience, the innovative shaft connections provide maximum performance and reliability, even under extreme thermal loads. They can be applied in temperatures ranging from -20 °C to 240 °C and are suitable for use in, for example, high-temperature pump systems. For application in areas subject to explosion hazards, the steel disc couplings of the RINGFEDER® TND series can be supplied in compliance with ATEX according to Product Directive 2014/34/EU and DIN EN ISO 80079-36:2016 if required.
You can find extensive information about the new RINGFEDER® TND series and the individual coupling types including detailed technical data and CAD models on their dedicated product page linked below:
Your Contact

You have specific questions, require technical support or you are interested in a customized solution? Our experts in Engineering and Sales are more than happy to assist you. Contact us quickly and easily via our request form, by e-mail or telephone.