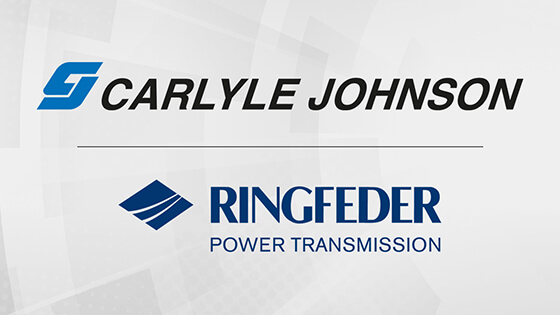 RINGFEDER POWER TRANSMISSION is pleased to announce it has acquired all shares in the US company CARLYLE JOHNSON MACHINE COMPANY, LLC. The company was founded in 1903 in Hartford, Connecticut, and designs and manufactures components for motion control that is used in a wide range of industrial applications.
CARLYLE JOHNSON's product portfolio includes mechanical, electrical, and pneumatic clutches and braking systems, as well as associated electrical controls and lubrication seals. The products live up to unique safety requirements as they are used in critical processes and contexts. High product reliability in combination with high innovation capacity has meant that CARLYLE JOHNSON's products are currently used, for example, in medical equipment, aerospace, industrial and defense product applications. It fits perfectly into our current customer base.
This acquisition complements us in a natural way. Through CARLYLE JOHNSON, we complement our existing product portfolio and enter interesting high market growth segments.
Just one of many examples of how well our companies fit together is the supply of components for robotic arms for assisted surgery. Today RINGFEDER POWER TRANSMISSION supplies clamping elements and CARLYLE JOHNSON electromagnetic brakes for it.
RINGFEDER POWER TRANSMISSION with the acquisition of CARLYLE JOHNSON becomes an exclusive partner for the complete coupling range and for the power transmission system, with local production sites in Europe, North and South America and thus even greater local proximity and availability to our customers.
All general terms and conditions as well as terms and conditions of sale and delivery will remain unchanged, as do your contact persons in our companies RINGFEDER POWER TRANSMISSION and CARLYLE JOHNSON.
Website of CARLYLE JOHNSON
Since 1997, RINGFEDER POWER TRANSMISSION is part of the VBG Group, an international industrial group with more than 1,700 employees in 17 countries, listed on the Nasdaq Stockholm Mid Cap list.
Your Contact
You require further information or have any questions? We're more than happy to assist you! Contact us quickly and easily via our request form, by e-mail or telephone.