Dear customers, suppliers and business partners,
We are constantly working to simplify our business processes internally as well as for our customers and suppliers and to increase our efficiency.
Therefore, we are pleased to inform you that our companies RINGFEDER POWER TRANSMISSION GMBH an RINGFEDER POWER TRANSMISSION TSCHAN GMBH will be merged into RINGFEDER POWER TRANSMISSION GMBH based in Gross-Umstadt, Germany, as of 1st January 2022.
All general terms and conditions as well as terms and conditions of sale and delivery will remain unchanged, as do your contact persons in our company. All deliveries will continue to be made from the Neunkirchen plant in Germany or from our production plant in Dobřany, Czech Republic.
Please note the following addresses for orders, deliveries and invoicing:
Invoice and Order Address:
RINGFEDER POWER TRANSMISSION GMBH
Werner-Heisenberg-Strasse 18
D-64823 Gross-Umstadt
Delivery Address:
RINGFEDER POWER TRANSMISSION GMBH
Zweibrücker Strasse 104
D-66538 Neunkirchen
Invoicing:
Please send invoices by e-mail to invoice@ringfeder.com.
We kindly ask you to use the new company name for delivery relations as of 1st January 2022 in our business correspondence and to adjust the same in your ERP system.
As soon as the tax authorities have implemented tax changes with regard to tax number and VAT identification number, we will inform you separately.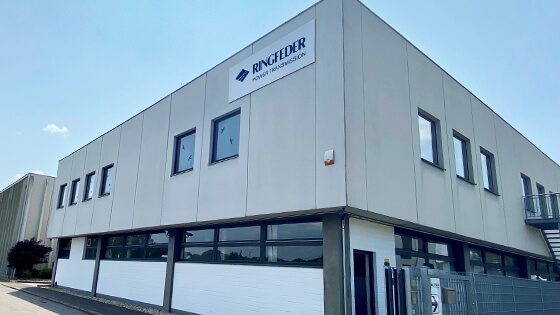 Production Site of RINGFEDER POWER TRANSMISSION GMBH in Neunkirchen
Together with the merger, our ERP system will be converted to SAP on 1st January 2022 at the Neunkirchen site. This will mean that we will have the same operating system for all locations in Europe and thus considerably more transparency. We have been working with the new system internally since the beginning of November and are pleased that the changeover has gone smoothly so far.
The last delivery this year will take place from our production plant
in Neunkirchen: On 17th December 2021
in Dobřany: On 22nd December 2021
Die first delivery delivery in the new year will be made again:
From Neunkirchen: Starting 10th January 2022
From Dobřany: Starting 3rd January 2022
We would like to take this opportunity to thank you for the trust you have placed in us and to wish you and your families a happy and joyful holiday season and your families a merry and blessed Christmas and a happy and, above all, healthy year 2022.
Yours sincerely
Thomas Moka, Managing Director/CEO
Information Letter as PDF